Fernando Bravo Escobar, MD.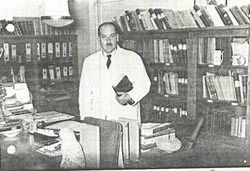 DECALOGUE WRITTEN BY DR. FERNANDO BRAVO
WORKER – EMPLOYER – EMPLOYEE
Wake up in the morning with your mind free of hatred, rancor and prejudice:
IN THIS WAY YOUR DAY WILL BE MORE PLEASANT
Tackle your work with a tranquil mind, because only in this way you will find permanent satisfaction in your life:
IN THIS WAY YOU WILL BEGIN YOUR DAY WITH THE PROPER DISPOSITION
Do not forget that work is to serve. What you do is of service to others. The remuneration that you receive or give, should not be in your thoughts while you work:
IN THIS WAY, THE END OF YOUR WORK DAY, WILL MAKE YOUR EFFORT MORE WORTH WHILE
Recognize the superior abilities of others. You, too, are more able than others and you will appreciate it if they recognize it:
IN THIS WAY YOU WILL ACQUIRE EQUANIMITY
Identify yourself with the responsibility of your position:
IN THIS WAY YOU WILL DIGNIFY YOUR OWN WORK
Do no demand from others more than they can do. The justice that you will give will be the justice that you will receive. In this way, your rights will receive the deserved recognition, and the obligations of others will be fulfilled:
IN THIS WAY YOU WILL BE JUST
Remember that consideration and thoughtfulness predispose towards mutual understanding:
IN THIS WAY YOU WILL FOSTER CORDIAL RELATIONS IN YOUR WORK
Keep always in mind that he who works at your side, be he over you or under you, is a man like you, with the same desire of a better life; seek to understand his problems as if they were your own, if you were in his place:
IN THIS WAY YOU WILL BE COMPREHENSIVE
Respect the political or religious ideology of others. Do not force yours into your work:
IN THIS WAY YOU WILL BE TOLERANT
Always aspire towards something higher and prepare yourself for it, but be content with what you have :
IN THIS WAY YOU WILL BE HAPPY
By: Fernando Bravo, MD. Human Relations Committee Ex. Governor of the Chilean Rotary Club Director of Rotary´s Central Office. Santiago. Chile.

Back to home